Thanks for buying a Tommee Tippee Baby Nail File. This product support page is here to help you use it safely, and to answer any questions you may have.
Your little one's nails may be teeny tiny, but they're surprisingly sharp!
Designed for use on tiny fingers and toes from birth, our simple-to-use baby nail trimmer means that it is super easy to keep your little one's nails neat, and their delicate skin free from scratches and scrapes – all without the need for tricky scissors!
Parts Guide
Filing head installation position
LED light
Right rotation high speed
Right rotation low speed
On/Off
Left rotation low speed
Left rotation high speed
Battery cover
Ultra-fine filing head (Orange)
Fine filing head (Green)
Medium filing head (Blue)
Metal head (Silver)
Soft polishing head (White)
Cylindrical filing head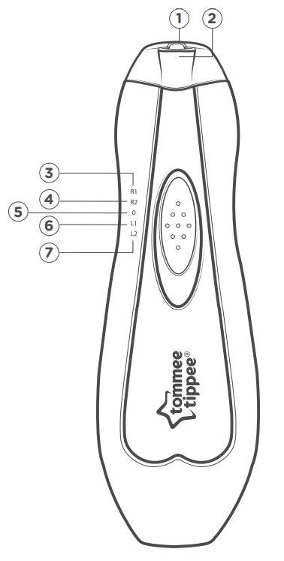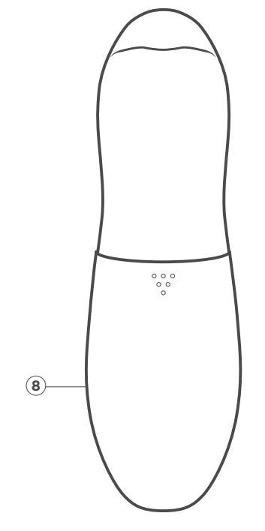 Your nail file comes with 3 special care filing heads for the different stages of baby and toddler nail growth. Plus, it also has both left and right rotation, so you can select your preference:
Left rotation - the filing head will rotate anti-clockwise.
Right rotation - the filing head will rotate clockwise.
Adults can also use the three additional filing heads to keep their nails in perfect condition.
Do not mix the filing heads as these have been developed for baby and parent/caregiver requirements. Please refer to the table below for guidance.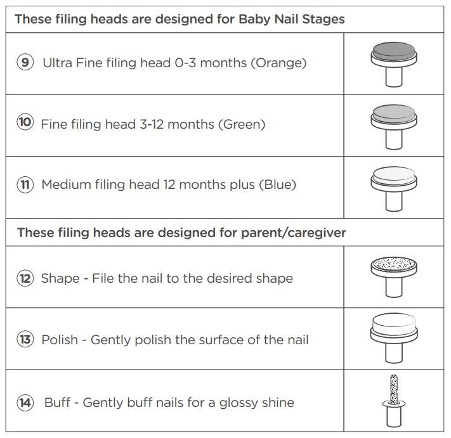 To get started, please follow the simple instructions listed below…
Clean your hands and cut any long nails with clippers before filing.
Choose the suitable filing head as recommended in the table.
Push the filing head onto the head installation position until secured with a click.
For best results keep the filing head moving lightly and evenly across the nail until the desired length is achieved.
After use, wipe the file body with a dry, soft cloth and remove dust from the filing head. Do not immerse in water.